Do you have a space in your home that is all your own?  A place where you feel warm and welcome and beautiful?  An intimate space where you can focus on yourself and prepare yourself for the world?  If not, let's talk about how simple it can be to create this kind of space for you.  And believe me; you will love having it once it's done.
A ladies boudoir was historically a private suite used for bathing and dressing.  An intimate space where she could take a moment to focus on herself in an environment designed to make her feel special.  So let's talk about how to begin designing this space for you.
The first step would be to choose your space.  Ideally it would be a separate room with private bathroom access but since that is not always possible now a days, take a new look at the arrangement of your bedroom and see if you can free up a corner or even reevaluate weather you really need all that stuff you have shoved into the second walk in closet that you dare not venture into.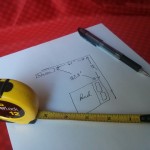 Now grab a measuring tape.  Have you ever used one?  Here's a great how to guide on wiki how.
Draw a quick layout of the space and write in the measurements for each line of available space you have.  "Measure twice cut once."  Always double check your measurements.  Better to take an extra couple minutes measuring than to not be able to fit all your stuff in your new space.  Now go clear out the space, get your measurements and check back in with me soon when we'll talk about the next step in designing this space just for you in How to Build Your Boudoir – Step 2.